Access & transport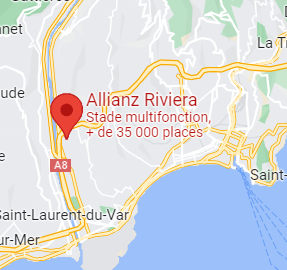 Allianz Riviera is at the heart of the Éco-vallée. The use of public transport and car-sharing must become a reflex. On match days, the stadium and its parvis will open a few hours before kick-off. For your convenience, we strongly recommended that you arrive early. In this section, you will find all the information required to reach the stadium, depending on your means of transport.
Allianz Riviera
Boulevard des Jardiniers - 06200 Nice
GPS : Latitude : 43.704 / Longitude : 7.191
The Allianz Riviera provides different entrances for major high-attendance events.
[Major Events] such as football matches, rugby matches, concerts, consumer tradeshows etc., than those used for smaller-scale events [Minor Events].
On days when major events are held, remember to follow the routes listed on our news section, to check the electronic traffic displays and to listen to VINCI Autoroutes radio (107.7 FM) or France Bleu Azur radio (103.8 FM).